FHL Histology Workshop
This is the main website for the Friday Harbor Histology Workshop held from August 15, 2019, to August 19, 2019

The goal of this workshop is to provide graduate and postdoctoral students with new skills that incorporate histology and classical anatomical tools with modern imaging and 3-dimensional imaging techniques.

Participants will prep, collect and analyze their own data during this workshop. No experience with histology is necessary; this workshop will be appropriate for those who want to learn a new skill and those who have histology experience.


Funding for this workshop has been generously provided by the Company of Biologists.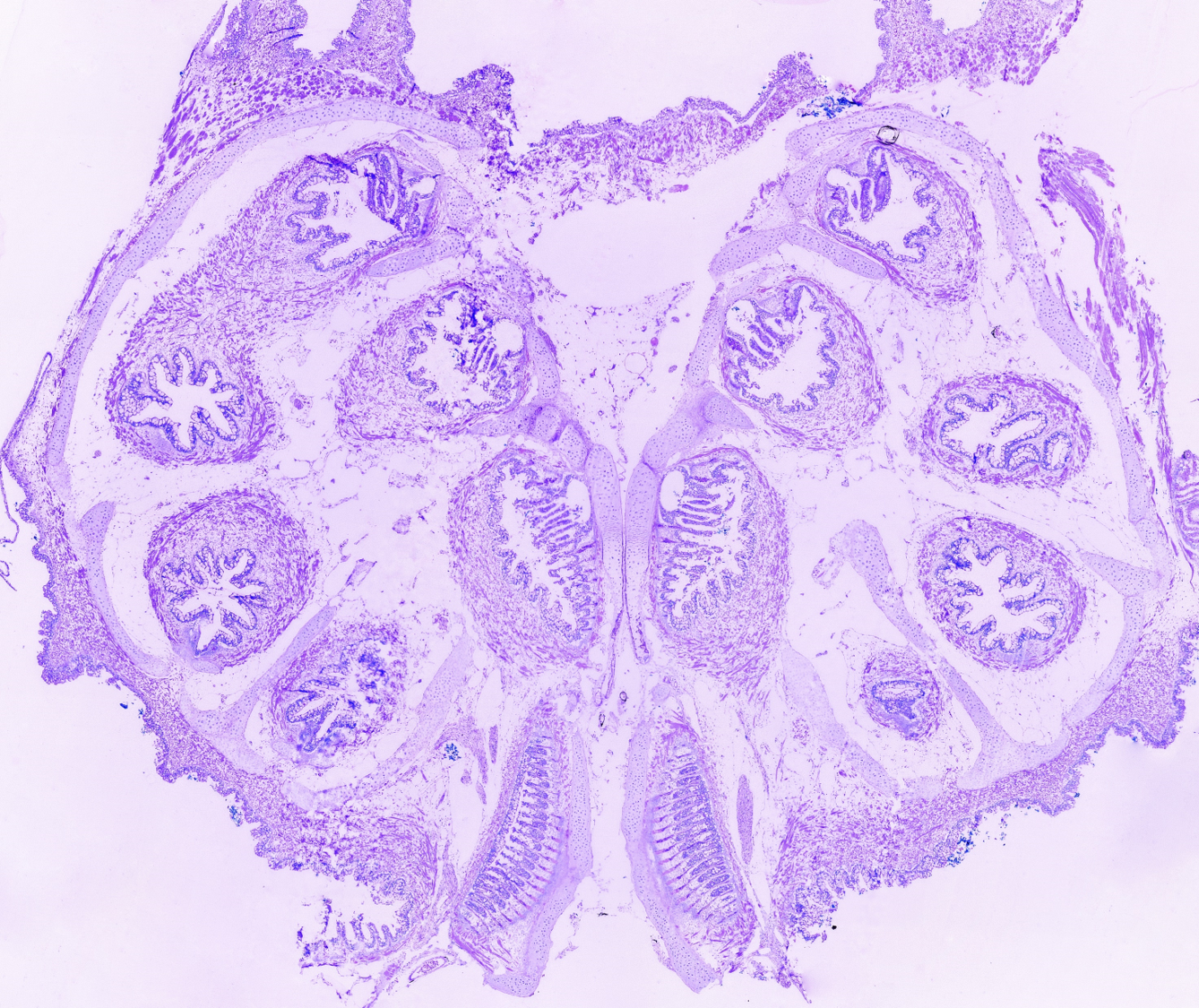 Karly E. Cohen
I am Ph.D. student at Friday Harbor Laboratories, University of Washington studying the biomechanics of fish mouths. I use histology to describe the development of teeth in predatory fishes, epibranchial organs and gill rakes in filter feeding fishes, and the soft lip of the remora. My work incorporates histology and CT to make biomechanical hypothesis about function, performance, and evolution in fishes.
Katherine E. Bemis
I am a Ph.D. Candidate at the Virginia Institute of Marine Science, College of William and Mary. I study teeth and tooth replacement in fishes to understand tooth anatomy, phylogenetic patterns, and ontogenetic changes. Paraffin and epoxy histology are tools I use in combination with dissection and CT scanning to study teeth. I am excited about the opportunity to share my experience using these tools together.
Skills
Hands on practice with several types of histological techniques including plastic embedding, paraffin embedding, and scanning electron microscopy
Imaging
Practice using general and cell specific staining protocols

Work on identifying and imaging specific cell structures with different types of microscopes
Analysis
Incorporate biomechanics into your own histology (that you've collected throughout the week)

How to mix histology with modern tools such as micro-CT, FEA, and 3D reconstruction
Schedule
Events are subject to change
Day 1: Infiltrating and sectioning
The first day of the workshop participants will infiltrate and embed their own specimens. This will be followed by the first hands-on practice in sectioning tissues with different types of microtomes.

By the end of day one participants will have begun the embedding process of their own samples, practice two types of sectioning and staining, and begin to interpret cellular morphology.
Day 2: Sectioning, theory, and SEM
On day 2 we will continue to work on sectioning, embedding, and imaging. Participants will also learn how to use the scanning electron microscope.

Participants will begin the day by completing the embedding process of their own samples and followed by sectioning at a higher difficulty level than the previous day. After lunch, we will break to a group discussion about the differences in materials and how to chose the histological method best to answer your question. After group discussion participants will continue practicing sectioning and stained samples.

We will meet to discuss how to select specimens for SEM study, what makes a good specimen (e.g., size of the specimen, preservation of specimen, tissue type) followed by SEM preparation and imaging.
Day 3: Sectioning, staining, imaging
By this time participants will be working with their own samples and learning imaging techniques.
Day 4: 3D reconstructions, 3D analysis, and figures
Practice analyzing and incorporating histology data into modern morphological tools including contrast-enhanced CT scans, and turning images into labeled illustrations.